-Sri SDB Ray Chaudhury.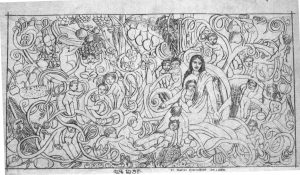 Illustrated by a lesser known artist Harish Chandra Halder and published in "Balak" Magazine, in the month of Jyestha 1292 Bangabda or 1885 CE, this , some have claimed, is the first illustration based on Vande Mataram by Bankim Chandra Chattopadhyay, ever printed. In this illustration, we observe , a central maternal figure with her child, surrounded by trees with swirling branches , flowers, fruits , signifying India as the motherland. This would be the first popular representation of Vande Mataram in art form.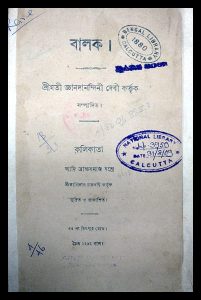 This would then beget the question, who was Harish Chandra Haldar, the person whom some name as Rabindranath Thakur's first illustrator. The very same person whose illustrations were present in the first issues of Rabindranath's book 'Rajarshi'.
Author Kamal Sarkar, in his book 'Shilpisaptak', sheds light on this personality.
In the writings of Thakur family members including those of Rabindranath himself, not much is mentioned about Harish Chandra Haldar as an artist, rather he is referred to more as a stage and prop manager for theatrical plays. Indeed he did work as an illustrator for stage backgrounds and as manager of sorts.
He was also a playwright , as attested by two plays that credit him as one, Kalapahad and Vedobati.
Details are few and far between, but it appears that HC was a student of Oriental Seminary at the same time as Rabindranath and Satyaprasad Gangopadhyay.
However, it does come as a surprise, and disappointment that even though Harish Chandra maintained such intimate relationship with the Thakur family, none of the members in their writing have dealt much about his artistic side. Not even as a footnote. Especially since he had done such many illustrations for Kabiguru himself. It would appear that Kabiguru didn't find it worthy enough to be mentioned at greater detail in his writings. It is only from the writings of other family members that we come to know more about him, even though, they too have not mentioned his artistic side or his training. The only mention that we find are as prop manager, stage manager and part time magician. Strange that such a multi faceted and multi disciplinary artiste gets no mention as a painter!
Kabiguru, in his last published work Golpo-Sholpo mentions, in the chapter called 'Mukta-Kuntala' ( He refers to Harish Chandra Haldar as হ চ হ)
" তোমাদের বয়সে , এমন কি তোমাদের চেয়ে বেশি কিছু বয়সে আমরা ম্যাজিকওয়ালাহ হরিশ হালদারকে পেয়ে বসেছিলুম। শুধু তাঁর ম্যাজিকে হাত ছিল না, সাহিত্যেও কলম চলত। আমাদের কাছে সেও ছিল ম্যাজিকবিশেষ। আজো মনে আছে একটা ঝুলঝুলে খাতায় লেখা তাঁর নাটকটা, নাম ছিল মুক্তকুন্তলা ।… আমি রাজী হলেন মুক্তগুলা সাজতে, কেন না আমার গলার আওয়াজটা মিহি।
আমাদের দালানের পিছন দিকে খানিকটা পোড়ো জমি ছিল, তাকে বলা হত গোলাবাড়ি। এই গোলাবাড়ির পাঁচিল ঘেঁষে গোটাকতক বাখারি জোগাড় করে হ, চ, হ, আমাদের বিখ্যাত নাট্যকার …. একটা স্টেজ খাড়া করেছিলেন । … হরীশ্চন্দ্র কোথা থেকে এনেছিলেন নানা রকমের পরচুলো গোঁফদাড়ি ।"
We do come to know however that HC  was a student of Government Art College , Calcutta.
But, HC comes on to his own in the illustrations he did for Balak Patrika.
Few examples . These are his illustrations based on the popular Bengali folktale of Shaat Bhai Chompa ( Chompa and her seven brothers)
The illustration for Vande Mataram was done as a supporting piece for an article called 'Gaan Abhyas' by Pratibha Sundari Devi ( Daughter of RN Thakur's elder brother Hemendranath).
In the said article, Pratibha Sundari had set to tune the first six lines of Vande Mataram.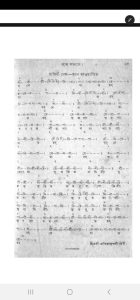 Composed on Desh raag, with Taal of Kawali.
The patrika , or magazine, Balak, was the enterprise of Jnanadanandini Devi, the wife of Satyendranath Thakur and was printed by Shri Kalidas Chakraborty.
It had a short run of one year and was later combined with Bharati Magazine, which came to be known then as Bharati o Balak Patrika.
It also becomes evident that HC Haldar was proficient as a cartographer too, having drawn this map of Bombay .
But, somewhere, somehow, the identity of the man was lost. Maybe, due to the onslaught of western and eastern (Japanese) artforms and the public acceptance and popularity of these artforms, the homegrown artist faded away.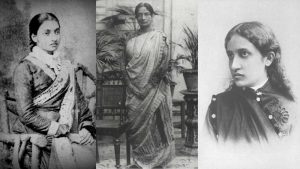 Further , as is evident from Kabiguru's writings itself, Harish Chandra Haldar had written and directed other plays too such as Mukta-Kuntala that have not been published and are lost in history with only passing/anecdotal references left behind.
It is sad, that the only work which would have marked him out as Pathikrit , that of the line drawing based on Vande Mataram, finds no mention anywhere by the very person he dedicated his illustrations to.
Readers may ask, how can the conclusion that Harish Chandra was trained at Government Art College, be arrived at. The answer lies in Harish Chandra's work itself. In the last page of Kalapahad , the play, ( aka Dharmadrohi Natok (drama), 1881 CE) the publisher has mentioned the credentials of the author which says " Late student of the Calcutta  Government School of Art". It also mentions that the author was a resident of 33, Prasanna Kumar Thakur Street of Pathuriaghata and the play was dedicated to one Priyanath Dutta.
We can therefore, make an educated guess and surmise that Harish Chandra might have been a student at the institute, under direct tutelage of Henry Hover Locke
Kamal Sarkar has however been able to source his roots to some extent and we come to know that Harish Chandra was the eldest son of Balaichand Haldar, the younger son being one Girish Chandra. Details of his birth and death remain elusive.
By not mentioning his accomplishments as an illustrator, the greatest accomplishment of the man has therefore remained unmentioned. And that , in our book , remains a tragedy.
(Author's Profile) –
Part time merchant mariner. Part time mechanic. Full time dreamer/procastrinator.
Searching for lesser known everyday heroes of Bengal's past.
Masquerading as an intellectual @ twitter.com/BengalAntiquity.