He was an emperor. He was a king. He was an institution and he was an integral part of Bengali Culture which the new generation commentators still follow and as such he is the doyen of Bengali Commentary. Bengali Commentary is synonymous to Ajoy Bose.You speak of Bengali Commentary and the image of a person  clad in milk white Dhoti and Punjabi emerges before your eyes.Though the new generation of commentators have never seen him in the booth but whatever audio recordings are available to them, they have also spoken of his contribution to the world of Broadcasting.
On the occasion of birthday celebration of Sri Ajoy Bose, All India Radio Kolkata paid rich tribute to the legends of Bengali Commentary. An audio documentary was aired on 3rd October, 2020 with reactions and views from his fellow commentators.
The trio of Bengali Commentary comprising Ajoy Bose, Kamal Bhattacharya and Pushpen Sarkar was as popular as the football trio of PK, Chuni and Balaram and the tennis trio of Jaideep, Premjit and Ramanathan. The broadcasting trio was so special that listeners used to demand this combination whenever a Cricket match was played at the Eden Gardens during winter. Listeners waited for long just to listen to the fruity baritone voice of Ajoy Bose "Namaskar, Cricketer Nandan Kannan Eden Udayan theke bolchi Ajoy Bosu" from the AIR booth at the Eden Gardens still rings in our ear.
Ajoy Bose during one of his interviews at the studios of All India Radio described his early days in the commentary booth.He described commentary as an art of entertainment or 'ek ta moza'. Ajoy Bose said and I quote" Ei moza onek samay saaza hoye jaye". He said Toss is an important part of and an interlude to any match and as such I used to research a lot on this aspect.He described that on the first day of the Test match at the Eden Gardens against West Indies in 1959,I gave the full details of the toss but to my bad luck, the commentary could not be transmitted due to technical fault and the next day there were many listeners letters at the Radio Station stating that the commentator (Ajoy Bose) who does not the value of Toss should not be given the job. I got punishment in this respect.
Born in a middle class family at Chor Bagan,Central Calcutta on 3rd October,1920, Ajoy Bose 's first stint as a Bengali Commentator took place in 1957 for a football match. Later on, the family moved to Bagbazar and as such Ajoy Bose and Ranji Cricketer Kamal Bhattacharya who lived in the neighborhood became good friends.They used to travel together for assignments at the AIR stations.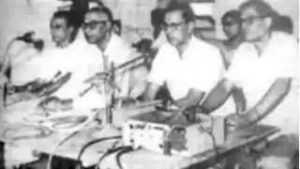 Srikanta Bhattacharya, the son of legendary commentator Kamal Bhattacharya, has the golden distinction of being involved to commentary alongside his father and Ajoy Bose described the ambiance and the atmosphere at the booth. Srikant said that the initial or the beginning of the commentary was usually performed by Ajoy da as he was a literary person and could smoothly describe the ambiance and crowd reaction. Next to come was Kamal da as he had the technical knowledge of the game. As for Pushpen Sarkar he was a scorer but later on drafted as commentator. Premangshu Chatterjee, former Cricketer was also a Commentator of great repute. Choice of words was also a forte of Ajoy Bose which took Cricket to the masses and it still continues with the charishma of Ajoy Bose.
Before I end, a few glimpses of his personality/personal magnetism do deserve special mention. It was in the early 80s and the name of Ehteshamuddin, cricketer of Pakistan landed him in a huge trouble. For the perfect pronunciation Ehtesham uddin, Ajoy da was found to pace outside the box fast while memorizing the name. Surajit Sengupta remains the witness.
Once, Jagmohan Dalmiya, globally acclaimed Indian cricket boss, tried to assist him financially. Being a person of high self-esteem, Ajoy da didn't speak to him ever.
Once Sourav Ganguly was asked by his father, maintaining contacts to Ajoy da must be a priority ever. .
Long Live Ajoy Da…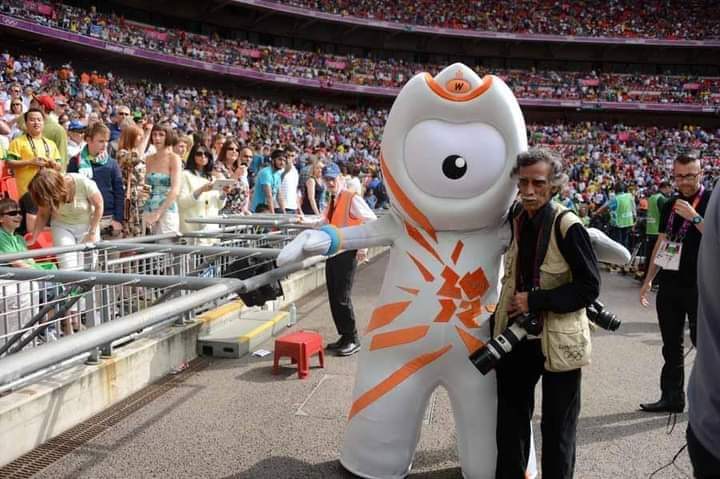 Veteran Sports Journalist who has covered most of the World Cups as well as Olympic games in the last twenty years. Besides being a prolific reporter at print media, a fantastic broadcaster Mr.Zafar Ali Khan had long been producing programs for All India Radio too…