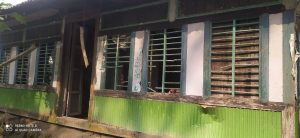 Worst apprehensions that Bangladesh is moving to a homogenous country fast bulldozing all minority aspirations are coming true. The intensity of minority persecution is at an all time high with no sign of its reduction can be seen. Only on last Sunday alleging a Facebook post to insult the Islamic prophet, a large gathering of Islamists, armed with rural weapons including bamboo sticks, barged into the Hindu locality at the village of Shatria of Kandi Union, sub-district: Kotalipara, district: Gopalgunj resulting into vandalism, desecration of temples and plundering Hindu households and shops. It should be stated, the same happens to be the electoral constituency of Sheikh Hasina, reigning Honourable Prime Minister of Bangladesh. 
What led to the offensive happened to be a Facebook post of a Hindu individual named Abir Adhikary, who at present is in India along with his family. It has been learnt that Abir's entire family, owing to excessive Hindu persecution, moved to India almost 7 years ago. Anadi Adhikary, learnt as the father of 25 year old Abir, inhabited the same village for decades. But since it became no more possible for them to exist in an environment of constant threats moved to India finally. But there can't be any respite for their ancestral village despite poor villagers remained unknown of any such slanderous post on the social media and hence, a huge number of Islamic populace pounced down on villagers as best prey.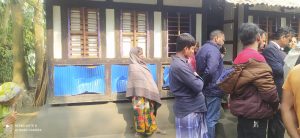 According to fresh reports, people who have been thrashed badly include Makhan Adhikary (son of Maharas Adhikary), Palash Adhikary (son of Bibek Adhikary), Monotosh Adhikary (son of Bhorot Adhikary – residence was plundered), Nemai Biswas (son of Chittaranjan Biswas), Sanjay Mandal (son of Biswanath Mandal), Amar Halder (son of Nilkanta Haldar), Barun Barui, Ganesh Barui (his shop as well as residence was despoiled). It must be remembered , there is no justice yet against the assault on Ashok Karmakar's residence by Islamists a few months back alleging blasphemy and contrary to expectation of Hindus, Ashok along with Ripan and Ajoy were arrested.
In 2021, when Hindus at Kotalipara tried to mobilise and protest against defilement of Hindu deities during Durga Puja they were cautioned by the administration as any such act would be tantamount to attack the dignity of Sheikh Hasina or Bangladesh Prime Minister.
শ্রী অনিমিত্র চক্রবর্তী হলেন একজন সাংবাদিক ও বিভাগীয় লেখক (columnist) এবং বেঙ্গল ভলান্টিয়ার্সের এক সক্রিয় কর্মী।